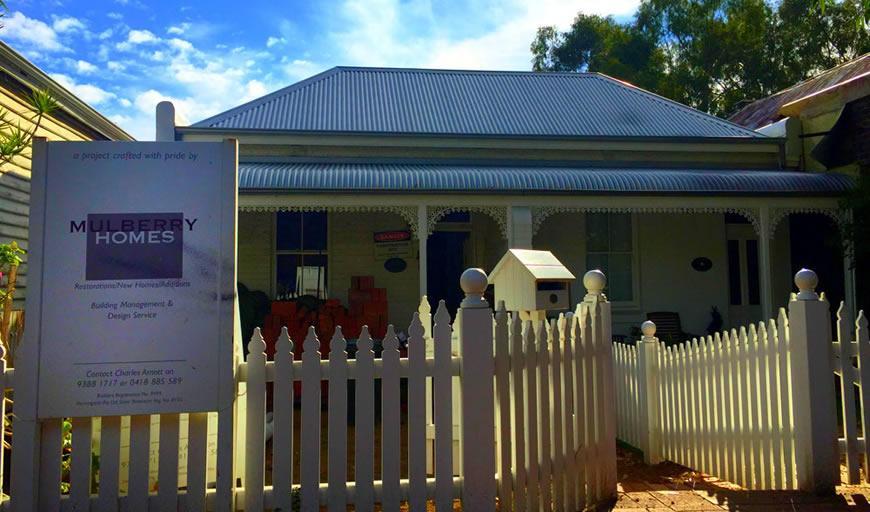 Mulberry Homes offers a full design service from planning your home renovation project to engineering and architecture. Mulberry specialises in renovating older homes, usually working from Subiaco to Fremantle and more recently, Mount Lawley.
Proprietor Charles has tried a few alternatives to brick work, but has settled on using Structural Insulated Panels (SIPs) for most home renovation work. Charles is happy to work from a home-owner's own renovation plans. The rough process of home renovation (or new build) goes from ;
scheme drawings
planning approval
working drawings
renovating / building the home
We spoke with Charles and asked him why he prefers to use SIPs panels over brick or other pre-built panel products . . .
Charles adheres to passive design principles as closely as is realistic (certification is a lot more work). You can read more about passive design here. In short, passive design means getting a structure as close to air-tight as possible so that heating and cooling costs are minimised.
When we met Charles, he was right in the middle of a home renovation opposite his work in Park Street, Subiaco.
The building is sealed to near-airtight Passivhaus design principles. Because it's footed on an already existing building (made from brick) it's not quite as easy to seal the home completely. Additions to the home are made using SIPs panels (see images below). A good part of the structure (which is on a sloping block) was already in the ground. Charles basically built a timber floor and a basement. This gave him the foundation and he continued to build the 1st and 2nd levels with structural insulated panels (SIPs) including a timber structure floor. The terrace house itself is quite tricky in that it's only 5m wide and 35m long.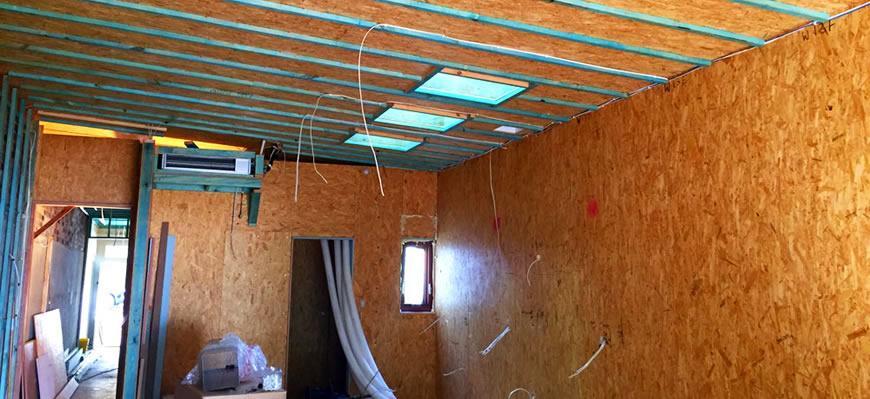 Inside construction of the SIPs home renovation in Subiaco
Why use SIPs Industries panels?
The advantage of using SIPs was that you could pretty well stand it up quite quickly. We didn't need scaffolding over the neighbour's property. We could have used other light frame construction, but we wouldn't get the same insulation advantages and most of the preparation is done.
Charles has experienced a lot of success using SIPs for home renovations through-out Subiaco.
The timeframe is a lot quicker.
It's a very straight product.
No trouble with warping in wet weather.
It's very easy to manipulate & cut
Excellent energy rating
Build time is half
Is cost a drawback using SIPs?
Perth's "Double-brick Vs. Panels" Debate
The cost is comparable with brick per meter covered but there are other savings. The perceived cost issue is a direct result of past advertising by the established brick industry in Perth. Local Perth brick companies have created their own efficiencies and competition over time, driving the price downward. Midland Brick ran a very good "knock-on-wall" advertising campaign in the 80s and 90s which made it difficult for new players to enter the market. But the actual perceived solidity of brick is a 70 year old myth.
Modern bricks can actually weigh a bit less than SIPs panels. MAXI-Light 304 bricks are commonly used for new Perth homes and are nearly 70% air. If only brickies in their late 50s suffering with arthritic backs and hands knew about SIPs.
In an article in Architecuture and Design mag, Anton Smith from Bluewater Building is quoted as saying;
It's easier to achieve the, now mandatory, six star energy rating in a timber frame home because timber doesn't conduct heat and you can fully insulate all the walls, which means lower power bills and big savings over the long term.
Building with panels is accepted internationally and yet the infamous and incredibly inefficient double-brick outer wall remains Perth's preferred (but uninformed) choice.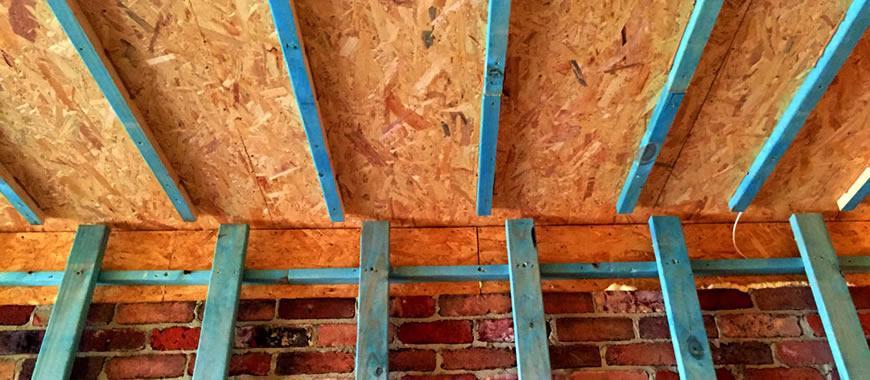 SIPs panels have amazing advantages compared to bricks
SIPs Industries on "Brick"
I went back to SIPs Industries proprietor Rob Vis to get his take on costs. It turns out external finished walls can actually cost a little less than a double-brick wall once finished at $20-30 per m². Inner-walls cost a little more than brick at $10-15 per m².
Rob also gave me an exhaustive list of advantages, including (but not limited to).
Reduce scaffolding costs
No waste bins full of bricks and stuff
Decreased build time
Less supervision needed
Fewer OHS Occupational Health & Safety issues
Issues with moving steel
Cracking walls
Fire-rated
Form work
SIPs has more living area
Less stuff-ups
No Bobcat or exhaustive clean-ups
Still more bins at $650 a pop x 6-8
SIPs actually keep the home cool and warm
I personally saw the living area argument as a big one, but it could be me. Because walls are a little thinner, with SIPs, home owners gain 6m² per level. That's heading up to double the area for smaller homes. Per level!
Rob asks;
So why isn't everybody living in our Homes?
I'm not sure, Rob. I'm not sure at all. But I'm convinced.