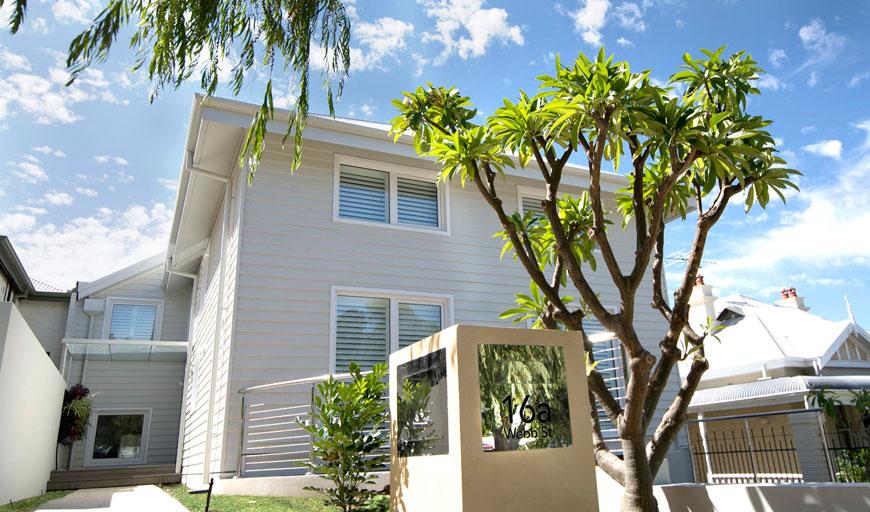 Structural Insulated Panels (SIPs)
A Builder's take with Andrew Abercromby (Consortium Builders)
Andrew Abercromby qualified as a Civil / Environmental Engineer at UWA. He worked on engineering construction projects in Belgium and New Guinea and completed an MBA in France. Andrew was appointed Project Coordinator for an expansion to Sydney's International Airport Terminal Building and then transferred to the UK and Switzerland to help integrate three European businesses. He now works in Perth, specialising in building homes with environmentally friendly products.
He recently completed WA's first PassivHaus using our own structural insulated panels. Building a home in Cottesloe to international standards regarding energy efficiency and comfort was a great experience for Andrew.
Building to Passivhaus Specifications
What is Passivhaus?

Passivhaus is a network of highly experienced German and Swiss trained developers keen to minimise fossil energy used when building a home and the ongoing energy needs which contribute to global warming.
The basic aim was to build a long-lasting, beautiful and sustainable home by minimising energy required for heating, cooling, and efficient water use. Using environmentally sound Structural Insulated Panels (SIPs) made the job a lot easier.

The Cottesloe SIPs home interior
The basic requirements when building homes to such carbon-restrained Passivhaus standards are:
Insulated shell
Minimum double-glazing
Near air-tight building design
Heat-recovery ventilation system (HVS)
No (or minimal) leaks
A home can be heated and cooled with only 10% of the normal energy requirements. All you need is one smallish air-conditioner for the whole house.
Passive Solar Design Principles
Passive solar design principles were incorporated into the build wherever possible. These include:
Building the home in the right aspect (e.g. with windows facing North)
Cross-ventilation using HRV (see below)
Shading
Solar Gain
How Heat Recovery Works
In the Cottesloe home, there is one inlet where air is drawn into the home using a 30 watt fan. The air is distributed throughout the main living areas of the home (living room, bedrooms, hall etc.) via a typical ducting system. At the same time, and at the same rate, another 30 watt fan extracts air from wet areas such as the kitchen and bathroom (the smelly areas). All of this air is pulled through a Heat Recovery Ventilation System (HRV). The air isn't actually mixed - it works a bit like a car where air is pulled through the radiator.
Building Homes with SIPs in Perth
Does the system work in Perth's heat?
The answer is "Almost." Our temperatures are often in excess of 40 degress!
It all depends on how well Solar Design aspects have been applied. Because a Passivhaus home is so efficiently engineered - with no leaks and highly insulated - one small (say 1500W) air-conditioner can cool (or heat) the entire home. Any air-conditioning system will be on for a lot less time.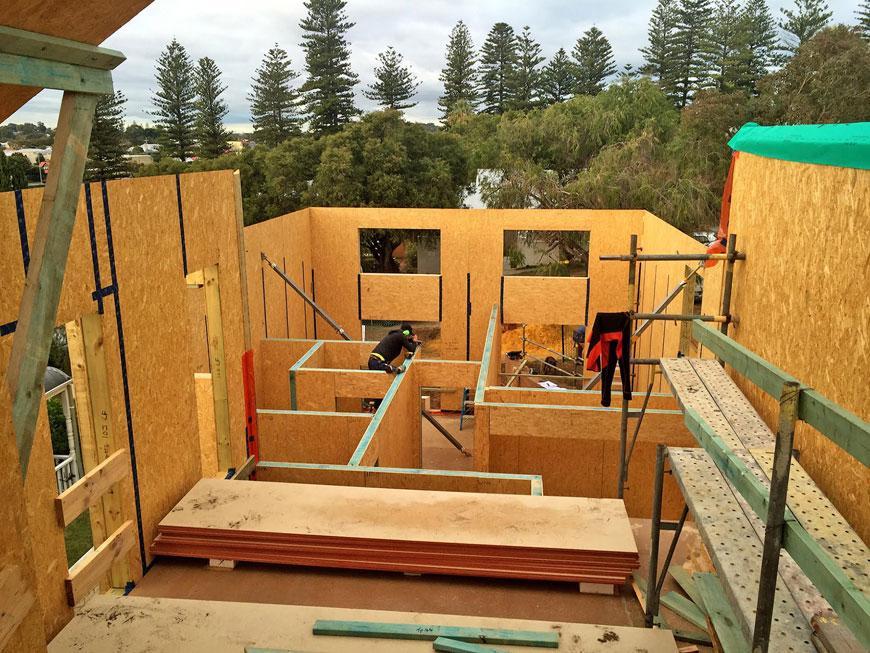 Building the Passivhaus home in Cottesloe
Can A Zero Footprint Home be Built With SIPs?
The calculations involving footprint are pretty complicated. The aim of a truly passive house is focused on its energy requirements.
If you want to calculate your carbon footprint go here: www.carbonfootprint.com
The Cottesloe home is Grid Plus - meaning that the energy it generates is greater than what it uses. In fact the Cottesloe house generates more than 20 kilowatts a day. The only pity is that Perth's feed-in tariff is down to 7c per Kwh (it used to be 47c).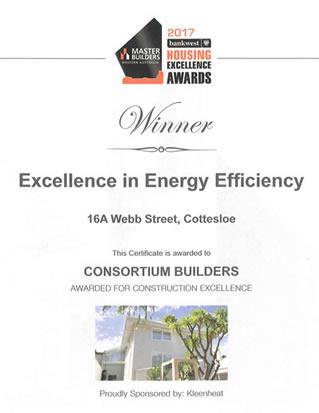 2017 MBA Housing Excellence Award
How Efficient is SIPs Technology?
Structurally Insulated Panels (SIPs) were a natural choice for Passivhaus. SIPs boasts excellent insulation and is completely airtight. The panels come standard 1200mm wide and they are filled with expanding foam before clicking together over a spline. The panels are also very straight and there's little to no leakage where they are joined.
Andrew has built several SIPs Industries homes. You can also read our Frequently Asked Questions for more information.
Quiet Houses
Andrew's clients are also impressed with the low noise floor. Because of the sealed panels and double-glazed windows, traffic noise is almost obliterated. Building homes which are fully-insulated also means they have excellent sound-proof qualities (like air, sound travels through gaps).
Air-tight Houses
To qualify as a Passivhaus, an air-test is performed. This checks to see if there are any leaks. With SIPs that's very easy (compared to brickwork) due to the nature of how the panels are put together.
How Different is a SIPs House from a Brick House?
Well, firstly, building homes with SIPs is akin to working with wood. Carpenters are used to put everything together. Instead of handing control over to brick-layers, suppliers and other companies, Andrew had tighter control over the build.
"It's a cleaner site. It's a much quieter site and the build is quicker and smoother to manage," says Andrew.
The team is approximately the same size, but the build takes half the time. The Cottesloe home took 11 months and it's a large home. If the Cottesloe Passivhaus house was built with brick, it would have easily taken twice that long.
The whole house is effectively three storeys high, including some in-ground [below ground] insulated concrete work. It took about 4 months to do the in-ground work. The house has a home theatre and a garage with retaining walls (under-pinning the neighbour's house). The next five levels (including roof terrace) were built in just 7 weeks with 6 guys - including windows so they could complete the blower (leak) test. Panels were transported on flat-bed trucks. A few guys can manually lift the panelling, but by the time the builders got to the 3rd level, they needed a crane to lower the panels (this was done in packs).
The roof was also built with SIPs Industries panels and special connectors. These were hoisted straight off the flat-bed trucks with a small crane. Some panels were high panels. The biggest panel was 6m x 1200m. A crane was needed for these but in most cases, the panels can be erected and put into place by 4 guys.

Securing the roof panels on the Cottesloe home
Andrew is doing another job using SIPs Industries panels in Nedlands. A team of 4 guys makes the job that much quicker to do, but the house isn't quite as big.
How Much is a SIPs Build?
It's about cost-neutral to build a home with our Structural Insulated Panels.
Price is invariably related to the time it takes, but when you consider that piping, electrical conduit and inner and outer shell comes with each panel, it's easy to work out the savings. If you also consider the thermal insulation properties and audio baffling quality of SIPs panels - the advantage becomes clear.
Are Computers Used for SIPs Home Design?
For the Cottesloe home, Andrew provided SIPs Industries with all the usual CAD drawings. The drawings are broken up into panels which arrive at the site in kit form. Another set of drawings arrive with instructions - much like with an Airfix model plane. "Panel One connects to Panel Two and you attach that here etc." Everything is glued together and pinned with nails. Andrew found the building process "fun."

The Cottesloe PassivHaus Home Building Blueprint
SIPS Ready-Cut
(Pre-cut Panels)
SIPs Ready-cut means that you have to make adjustments on-site. While it's a much cheaper material process, it will cost more for time and on-site labour because modifications will need to be made. Simple jobs such as a room extension are perfect for SIPs Ready-cut. Visit the SIPs Ready Cut page for more information.
What About Architects?
Andrew used to work solely for architects until recently. Homes once cost around $4-$500,000 - but soon afterwards prices quickly started escalating and $4-5m was becoming the norm. This meant that build times also increased from just a year to 4 and 5 years. Cost blow-outs were all too common. Lots of notes and minor modification instructions from architects would blow out the timelines and building soon became a painful process for everybody. In short, documentation wasn't becoming sufficiently resolved enough to be able to efficiently build homes. Andrew wanted to get back in control of the building process. He also wanted to build quickly and make the most of existing factory-based, modern building methods.
The Future of Building
Green Building Conference - Santa Monica
Inspiring Home Building Technology in the USA
SIPs panels are used a lot in America. They have a well-established base of SIPs-built homes. There is also a strong presence in Germany and the UK. SIPs has at least 30 years of history around the world. About 7 years ago, Andrew took himself off to the Green Building Conference in Santa Monica.
Read this LA Times article to get a sense of what they are up to now: www.latimes.com.
He wanted to see new building technologies in action and was totally blown away by the creativity and quality of new homes that can be built this way. Only a few years ago, SIPs building material had to be imported from Eastern States. "Until Rob actually started making SIPs in WA, it just wasn't cost-effective to do the same thing here," he says. Rob started SIPs Industries (and this website) and the first opportunity they got, he and Andrew started on a small job - building a SIPs home extension. This then gave them a sense of responsibility over design. "We can determine if a job needs external input and we are happy to work with Architects and different visions." Builders defecting to the SIPs Technologies way of building a home may find some hurdles. If they take time to learn and understand the system - pluses and limitations - they are most likely to find a bucket-full of advantages.
Alternatives to Structural Insulated Panels?
There are a whole heap of alternatives. Andrew has investigated many of them, but likes SIPs best. "It takes a bit of time to get used to if a builder is coming from another system, but once they do get used to it, they soon see the advantages," says Andrew. "More and more there are engineers out there who are familiar with the product. We already have seven jobs under our belt - with more coming." What sort of job is a discerning building company like Consortium Homes eager to do? Andrew muses . . .
They want something quite special
They've got a little bit of money
They want to work closely with their builder
Very high quality
Parting Thoughts
After finishing the award-winning Cottesloe home, Andrew is now working on another SIPs Industries house in Ashburton Terrace, Fremantle. I asked Andrew what he'd do with his own home . . .
"I'd most probably build with SIPs. I'd also pay attention to how each room integrates with the exterior garden. People aren't designing homes to match the Perth climate. We once built a house around a fish pond, where the garden eating area was set lower and you could actually see the fish through a glass wall."
He asks himself . . .
"Where do you have breakfast in the morning? Are we inside or outside? Perhaps we should open our minds to a more Balinese way of living with nature - where one is never too sure."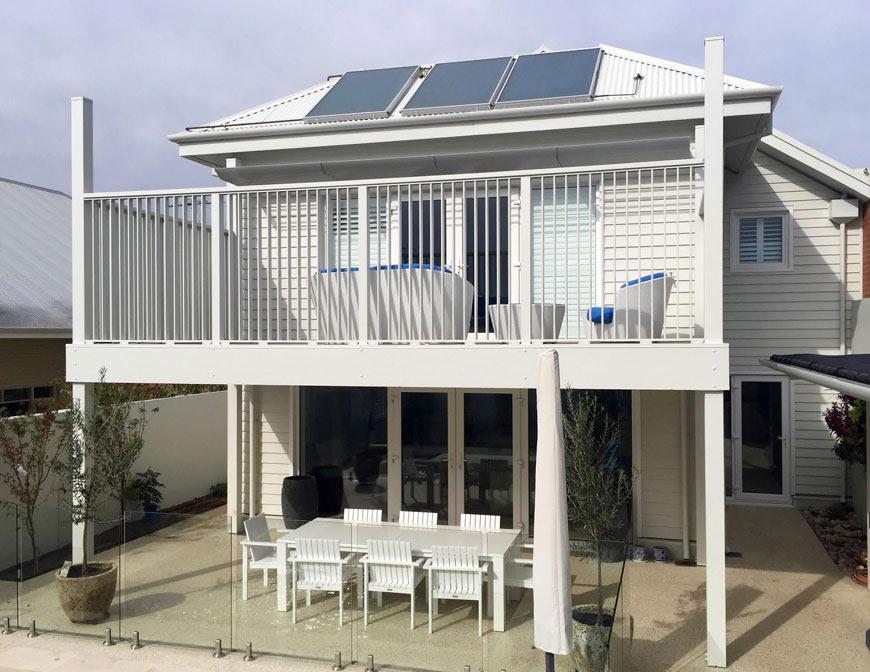 The Cottesloe home back garden
Andrew can be contacted at Consortium Builders or by calling 0411 444 984. If you are interested in SIPs Industries technologies, you can always drop us a line on (08) 9494 2211 or leave us a message.
We look forward to working with like-minded people who want to build beautiful homes.