Build faster with Structurally Insulated Panels. Our SIPs system allows you to save time and money, but still create the cutting edge in sustainable living.
In Australia, 27% of all home-buyers are looking for an alternative to brick construction. Our SIPs By Design service is the leading substitute in the market, providing future proof buildings with more unique selling points. Known for its strength, versatility and air tightness, the quick build times of a structurally insulated panel system allow greater opportunities in the selling market.
SIPS will manufacture the building envelope and structural walls exactly to suit the building design, we call this By Design. Our versatility is unique and SIPs panels can be utilized to suit any design.
Once a design is manufactured in our systems it is always there and ready to be repeated without much notice. This can save a developer even more time that we can already achieve with our fast build times. We can also provide ReadyCut panels which are pre-designed, pre-engineered off the shelf panels. Buildings can be designed to suit the standard panels which will in turn save on costs even more.
Build 3 SIPs homes in the same time it takes to build 1 Traditional home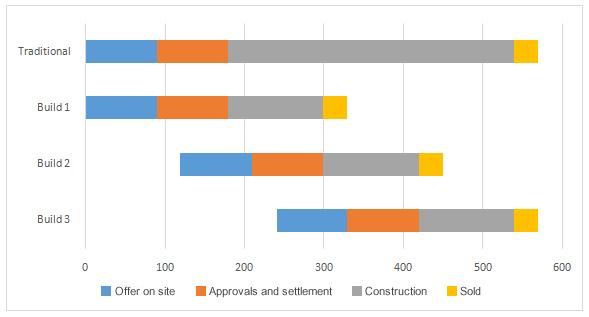 Build 3 SIPs homes in the time it takes to build 1 standard home. SIPs is a simple concept that allows you to build a superior development in one third of the time that it takes to build a brick & tile equivalent.
Building with SIPs floor panels, roof panels and wall panels means you invest in shorter build times, saving you time and money.
There's more than 1 way to go about the SIPs process. But, so simple is the process, we call it "Lego for grown-ups".